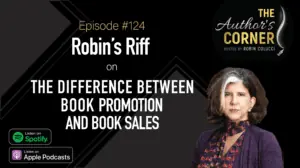 Summary:
The #1 area in the entire writing and publishing process that authors report the most frustration and disappointment is book sales. After a few months of promoting their book, most are dismayed by their results, and they stop promoting altogether. 
It's vital to understand that the activities that actually cause book sales are different from activities that promote your book. They are not one in the same. And if you're confused about which is which, you likely will end up not only disappointed, but you'll have spent a lot of money that you'll wish you could get back.
In episode #124 of The Author's Corner, Robin Colucci is back for another Robin's Riff where  she explains the distinction between book promotion and book sales, and why it is so important to understand the difference. She reveals the specific activities that apply to each category, and the one that counts for both! And, she explains the word-of-mouth tipping point–what it is and how books get there… 
Key takeaways:
The distinction between book promotion and book sales and why you have to understand it

Activities that promote your book 

Activities that cause sales

The word-of-mouth tipping point 

And more!
Resources mentioned in this episode:
About Robin Colucci:
Robin Colucci has been helping world class experts write world changing books since 2003. Before that she built, grew, and sold a personal fitness business. She also was a journalist and worked as an acquisitions editor for an independent publishing house. Robin brings her deep, hands-on knowledge of publishing and entrepreneurship to her clients whose books cover a range of topics including: business, personal development, memoir, health and fitness, science and technology, politics, equality, and the environment.