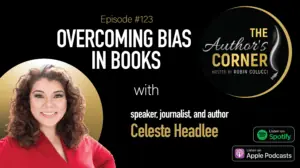 Summary:
The human species is the only species on earth that suffers from confirmation bias. And with today's divisive political climate, confirmation bias is on the rise. 
Bias is inevitable. It's impossible to know the experience of every single person, so you must speak from your own. But how do you, as an author, combat the biases that show up in your writing? What can you do to ensure that you're not inadvertently alienating or excluding segments of your audience?
In episode #123 of The Author's Corner, Robin is joined by Celeste Headlee to discuss how confirmation bias shows up in books, and what authors can do about it. Celeste also talks about the inspiration behind each of her books, and she divulges her personal process for writing and how it helps to maximize focus.
Key takeaways:
The inspiration behind each of her books

How bias shows up in books and what authors can do to mitigate it

The downfall of self-help

How to make diverse audiences feel seen

The rise of confirmation bias

The power of self compassion

How to maximize your focus for writing

And more!
Resources mentioned in this episode:
About Celeste Headlee:
Celeste Headlee is an internationally recognized journalist, radio host, professional speaker, and author of multiple bestselling books, including We Need To Talk: How To Have Conversations That Matter and Speaking of Race: Why Everyone Needs to Talk About Racism and How to Do It. She is the president and CEO of Headway DEI, a non-profit that works to bring racial justice and equity to journalism and media through targeted training and interventions. Celeste is a regular guest host on NPR and American Public Media and in 2019, she received the Media Changemaker Award.