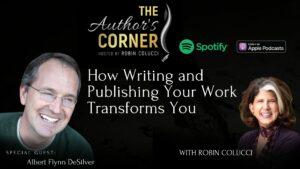 In this episode, internationally published poet Albert Flynn DeSilver chats with us about how you can start your creative writing journey and share your story with the world. Keep listening to learn resources and expert tips on becoming a mindful writer to unleash the creative writing genius within you today!
Key Takeaways from This Episode
Resources Mentioned in This Episode
Be one of the first 10 listeners to get a FREE 30-minute creative writing strategy/coaching call with Albert when you go to www.calendly.com/albertflynndesilver/30min. Albert's offer is on a first-come, first-served basis, so if you're interested, take action and book a call now!
If you want fantastic FREE writing prompts, a discounted copy of Albert's book "Writing as a Path to Awakening," and additional supportive resources, visit https://www.albertflynndesilver.com.
About Albert Flynn DeSilver
Albert Flynn DeSilver is an internationally published poet, writer, speaker, and workshop leader. He served as Marin County, California's first Poet Laureate from 2008-2010.
His work has appeared in more than 100 literary journals worldwide, including ZYZZYVA, New American Writing, Hanging Loose, Jubilat, Exquisite Corpse, Jacket, Poetry Kanto, Van Gogh's Ear, and many others. He is also the author of the memoir Beamish Boy, which Kirkus reviews called "a beautifully written memoir poignant and inspirational." His latest book, Writing as a Path to Awakening (based on his popular workshops by the same name), was published by Sounds True.
Albert received a BFA from the University of Colorado and an MFA from the San Francisco Art Institute. He is also a speaker and trainer who has taught writing workshops at the Esalen Institute, the Omega Institute, Spirit Rock Meditation Center, and national literary conferences.
Love the show? Subscribe, rate, review, and share!
Join The Author's Corner Community today: