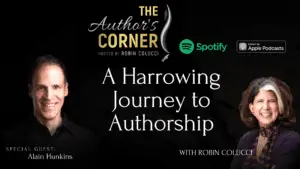 If you're a first-time author looking to publish your debut book, here's an episode tailored for you! In this episode, business consultant and established author Alain Hunkins takes us through the hardships of publishing his first book and how it impacted his business. Tune in to learn about the process of publishing and marketing a book and uncover a book's true return on investments.
Key Takeaways from This Episode
A writer's first book struggles

Why you shouldn't pay your literary agent a monthly retainer

How to leverage your expertise to market your book

Business value-adds and opportunities your published book can give you

Powerful advice for first time authors

The focus and dedication necessary for a writer
Resources Mentioned in this episode
About Alain Hunkins
ALAIN HUNKINS helps high achieving people become high achieving leaders. Over his twenty-five-year career, Alain has worked with over 2,000 groups of leaders in 27 countries, including 42 of the Fortune 100 companies. In addition to being a leadership speaker, consultant, trainer, and coach, Alain is the author of the book **CRACKING THE LEADERSHIP CODE**: Three Secrets to Building Strong Leaders (published by Wiley, March 2020).
Alain is a faculty member of Duke Corporate Education and serves on the Academic Board of Advisors for the New Delhi Institute of Management. Alain's work has been featured in Chief Executive, Fast Company, Inc., Training Magazine, Chief Learning Officer, and Business Insider. He's also a regular leadership strategy contributor to Forbes. Alain was recently named #33 on the Global Power list of the Top 200 Biggest Voices in Leadership for 2022 by LeadersHum. A father of two teenagers, he lives in Northampton, Massachusetts.
LinkedIn: Alain Hunkins
Love the show? Subscribe, rate, review, and share!
Join The Author's Corner Community today: