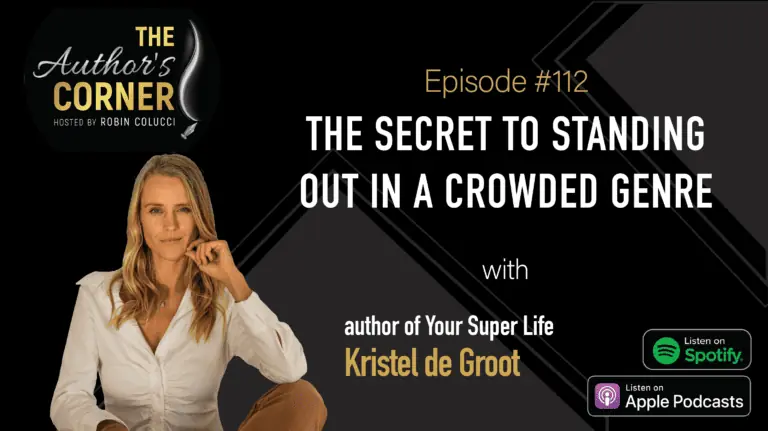 When you walk into Barnes & Noble, one of the biggest sections you find is the Health and Nutrition section. Thousands of cookbooks line the shelves, with at least ten for each lifestyle. 
It's overwhelming enough for readers, but as an aspiring author in the health/nutrition industry, you might be wondering, how will you stand out?
In episode #112 of The Author's Corner, Robin is joined by Kristel de Groot, co-author of Your Super Life, who may have cracked the code on how to make her book stand out. Kristel shares how she structured her book so that it not only stood out, but made the content more reader friendly than most books in the health/nutrition space. They also dive into the triggering event that made her go from an entrepreneur to an author. Finally, she offers valuable insight into the marketing strategy that she and her husband/co-author Michael used to promote their book. Plus lots of nutrition tips along the way!
Key takeaways:
Advice on how to heighten visibility and influence of your business

Insight into how Kristel decided to structure and frame the book so that her ideas presented in a fresh perspective

The triggering event that inspired her to go from entrepreneur to author

What it was like to write the book in partnership with her husband, Michael

The marketing strategies that they used to make their book a success

Plus lots of nutrition tips along the way!
Resources mentioned in this episode:
About Kristel de Groot:
Kristel de Groot is half of the powerhouse team behind Your Super, one of the biggest superfood brands in the U.S. and Europe. When Kristel's partner, Michael, was diagnosed with cancer at age 24, she started experimenting with the possibilities of using food as medicine. Using organic superfood and plant protein mixes to help boost immunity and overall health, the company has quickly spread across six continents and 60+ countries. Your Super has helped millions of people to change their lifestyle and feel better with the power of plants.
Kristel is a nutrition coach with certifications in plant-based nutrition from eCornell University and IIN. Kristel has been named among the 30 Under 30 by both Forbes and Inc Magazine, and has been featured in a dazzling array of media, from Forbes to Cheddar TV, InStyle, Well + Good, The Doctors, and Good Day L.A.
As a woman, mom, and female founder, she is advocating that true diversity is about celebrating the differences between women and men in the workplace. She introduced the moon day policy where women get 1 day per month when they have a period to do what they can – from canceling their meetings to taking the day off. Kristel and Michael recently published their newest book Your Super Life: 100+ Delicious, Plant-Based Recipes Made with Nature's Most Powerful Superfoods and host a popular podcast by the same name.