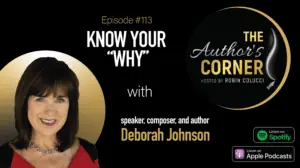 Before you write one word of your book, or even begin to build your outline, there's one thing you need to figure out: your "why." 
The answers to this question might not be the same for everything you write, so "WHY?" is a question you should be asking at the outset of every single book project you begin. 
In episode #113 of The Author's Corner, Robin is joined by Deborah Johnson, who has a different "why" for each of her six books. They dive into the reason behind each of her books, and discuss some of the best reasons to write and book, and some of the not-so-great reasons. Finally, Deborah reveals her secret to overcoming writer's block. 
Key takeaways:
How writing song and musical theater compares to writing a book

How asking "why" for each book grew her purpose

The importance of asking "why"

Why she decided to write an allegory 

Legitimate and non-legitimate reasons to write your book

How to give your mind a break
Resources mentioned in this episode:
About Deborah Johnson: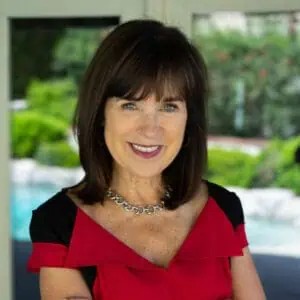 Deborah Johnson, M.A. has not only written multiple books and albums, but hundreds of songs, three full-length musicals and is the producer of the popular podcast, Women at Halftime. Deborah is the author of six books including, The Summit: Journey to Hero Mountain, and her most recent, Stop Circling: Steps to Escape Endless Roundabouts. She relishes the creative process and has focused on helping those at mid-career or the halftime of life maximize their skills, talents, and resources to make their second half better than their first. Deborah was past president of the National Speakers Association, Los Angeles and has written & produced multiple online courses.
With over 2- years in the entertainment industry and up for multiple GRAMMY Awards, she's built multiple self-driven businesses and is an expert on how to constantly reinvent yourself in a gig-economy.