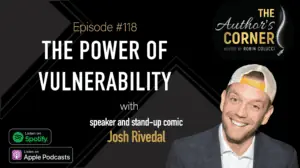 Summary:
Writing a book is not just about writing a book. It's also a journey of self-discovery and growth—if you're open to it. A book can also be a powerful tool to connect with your reader and help them discover something about themselves. But in order to get your reader to a vulnerable place, you have to lead the way. 
In episode #118 of The Author's Corner, Robin is joined by Josh Rivedal, who has dedicated his life to being vulnerable and open about his struggle with depression and suicide, so that others may learn from his challenges. Josh shares the moving story of how he got here today (and how he almost didn't get here). He talks about how he transformed the darkest period of his life into something that others could learn from, first through speaking, then stand-up comedy, and finally through his books. And we discuss why it is crucial to build trust with your readers, and how humor and vulnerability can help you do so. 
Key takeaways:
Josh's struggle with depression, and how his family history contributed 

How he turned his struggle with depression into something positive to support others

How Josh uses his book, speaking, and training gigs together to reach people

The epiphanies that turned his life around

Using humor to connect with people about serious topics

Why building trust with your reader is so important

How you can get readers' attention

And more!
Resources mentioned in this episode:
About Josh Rivedal:
Joshua Rivedal is an author, speaker, educator, and stand-up comic. He has spoken about suicide prevention and mental health in 550+ locations in 12 years across the U.S., Canada, the U.K., and Australia. His original coursework on suicide prevention is taught in Washington State to dentists, pharmacists, and occupational therapists. As an actor, Joshua's voice has been heard on U.S. national commercials like Dell, McDonalds, and Dunkin Donuts; and as part of the award-winning voiceover cast of The Art of Secrets by James Klise. In the business world, Joshua has consulted for the marketing team of the world's best-selling author James Patterson. Joshua is the author of six books, including his memoir The Gospel According to Josh: A 28-Year Gentile Bar Mitzvah.