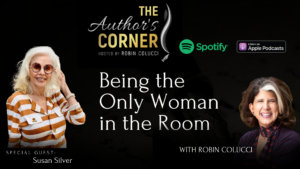 In this episode, I share a great laugh with Susan Silver as she reminisces her writing career with so much enthusiasm, courage, and life. Tune in to find out more about adding comedy to one's content, sitcom writing, and leaving a legacy to the public.
Key Takeaways from This Episode
The three Rs in writing
Inspirational tips on confronting one's fears in writing
Relating the characters' stories to real-life experiences
Techniques to enjoy sitcom writing
Why people watch true-crime murder series
Resources Mentioned in This Episode
About Susan Silver
Susan Silver was one of the original writers of The Mary Tyler Moore Show, The Bob Newhart Show, Maude, and many other sitcoms. She wrote two Top Ten Movies of the Week, feature films, and pilots for her sitcoms. Also, she has appeared on TV talk shows such as Fox Good Day NY (5), The Today Show (3), is a frequent radio guest on Boomer issues for the Growing Bolder radio program, Bill Bennett Show, and others. She has a long-running radio commentary on the NPR affiliate of Connecticut called "Susan Says" on www.Robinhoodradio.com and iTunes. Profiled in TV Guide, Esquire, and other publications, she has written OP-Ed pieces for The New York Times, articles for Los Angeles Magazine, Refinery 29, and had a long-running column on newyorksocialdiary.com entitled "The Search For Mr. Adequate." In a second career, she worked in Holocaust-related organizations such as the Anti-Defamation League, running their Speakers Bureau, and as a UN Observer for the Simon Wiesenthal Center. The New York Sun calls her "The Voice for those past the Sex and the City bracket." Her memoir, "Hot Pants in Hollywood: Sex, Secrets & Sitcoms was published in 2017.
Love the show? Subscribe, rate, review, and share!
Join The Author's Corner Community today:
Robin Colucci's Book: How to Write a Book That Sells You: Increase Your Credibility, Income, and Impact